Interview with Zeros creator, Martin Eden – May 2023
(Halfway through the Zeros Volume Two Before Stories)
So how's the world of Zeros?
It's good! It's been a weird year as I left my full-time job and became (mostly) a freelance Editor. But I've also been doing all sorts of other things too – learning how to teach English as a foreign language, doing an art course and creating a zine for my local arts centre. So it's been busy – sometimes too busy – and sometimes it's been hard to find time to draw Zeros (and I get grumpy if I don't do any Zeros in a day – even just drawing a head or a foot will do). I finished Vol 2 Chapter 11, 'Lost Angeles', which I was happy with but maybe it was too long. I did want to do an 'epic' story, but it took almost a year to put it out there, so I think I'd rather stick to shorter chapters.
Now I'm onto The Before Stories.

How are The Before Stories going?
I really like them. They are flashback episodes and I'm doing them in the old crayon colouring look of Volume One, so it's nice to go back to that style – it's kinda easy to do and I think it's effective. For the Bubble/Speck story, it was good to explore their friendship and relationship. The Sunshine story is something I've been dying to do since I started Zeros and I think it's pretty controversial. I took off the 'all ages' tag when I posted it. I had a lot of second thoughts about running it as I'd planned, but I just went with it. I think most people didn't realise how controversial it actually is!
How do you mean?
Well it's about a 16-year-old girl getting pregnant, and it's quite unique, as she can ask her superpowered friend to effectively terminate the pregnancy. It's been a story that's been in my head for a few years now, and it's not over. And is Sunshine bad for asking her friend to do this? Well, in a way, yes, but also, I think youngsters tend to do crazy, extreme things sometimes – well, we all do.

What's next?
We have three more Before Stories. I just started the Yuki one, which brings back his Gran, who we saw in Volume One. This one was inspired by a few different things – experiences of a couple of friends. Also, it contains a little fable, and it was an original plan to feature a one-page fable/story after every chapter, but I didn't have enough time for them. I also liked the idea of bringing back Yuki's gran from Volume 1 – I like little connections like that.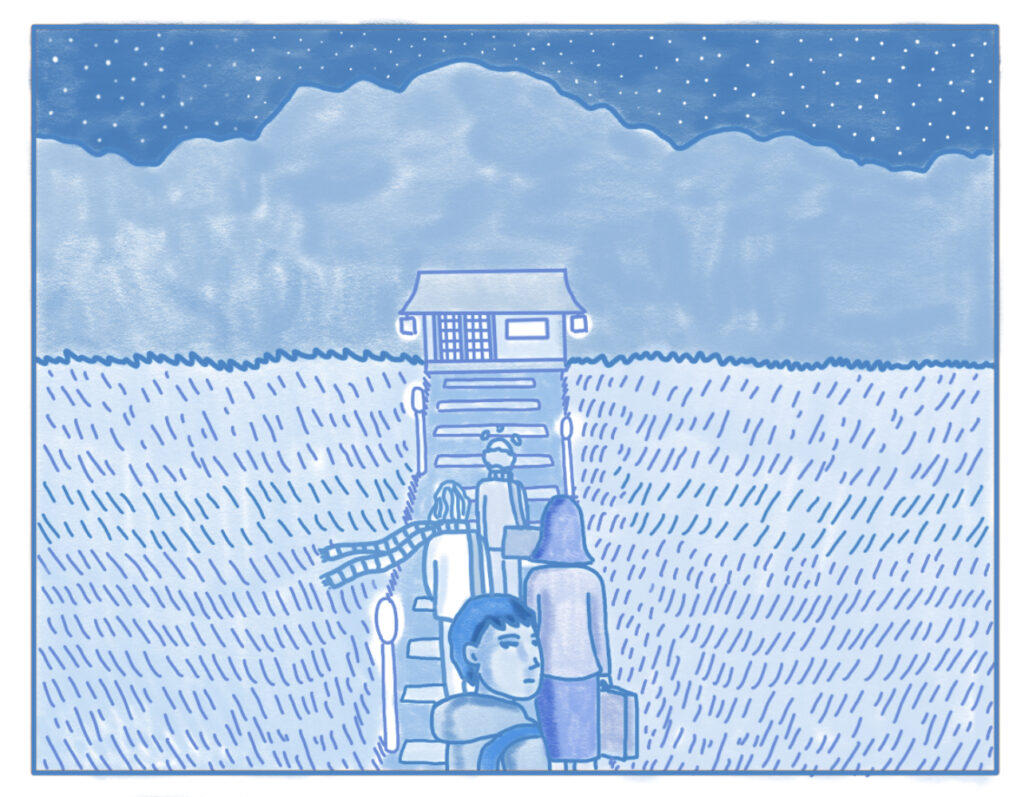 Then we have Rex, where he meets the 'ghost' of the Powertown Institute, and he learns a lot about the history of the Zeros world.And then we have Lauren, who is investigating a few mysteries, and that one ends with something that I've really been looking forward to doing. Essentially, it gives you a big hint about where Zeros is heading.


I really liked the colours in these three stories. I wasn't sure if the Rex story would work as it's in shades of brown, but I think it looks good. Lauren's story is in pink, and it took a while to nail how she looked while she is invisible, but I think I got there. 
And then we launch into the final chapters of the volume. 

What's in store for the final chapters?
I've been planting little seeds with characters like Utopia, Glitch, Brains, Sunshine, Will and Mo – and those stories will all be coming to a head in an explosive and dramatic way. The Perfects will be involved and we'll see new sides to the characters' powers. 

Have you started doing anything on Volume Three?
Well I know the overall story. It's a bit of a shocker and by the end, everything will have changed. I'll need to iron out a lot of details over the next few months. 

Tell us about the zine you're doing for your local arts centre.
I'm so lucky to be doing that zine. When I left my full time job, I was mostly thinking 'what do I do now then?' And luckily I saw an ad looking for a zine creator, I applied for it and eventually got it. So it's for my local arts centre and it's 8 issues – it'll finish by March 2024. I have to incorporate local inventions and I've learned a lot. It's called The Mysterious Doors of Stanley Halls and it's about 12 people who get trapped in Stanley Halls in South Norwood (an amazing building) and they have to go through different doors to try and get out – but the doors lead to different time periods. It's been a lot of fun to do. The first few issues are a bit talky but it's going to go crazy towards the end. 
***********************************************************************
Interview with Zeros creator, Martin Eden – September 2019
(Just before Zeros Volume Two began)

Where did you get the idea for Zeros?
It just evolved naturally (like a lot of my ideas). I had the idea (about a world where everyone has superpowers) when I was working on the final issues of The O Men, so I was able to build it into the final storylines there and connect it with all my comics. Also, I wanted to try my hand at childrens/all ages comics/books and I wanted to do something that my young nephew and niece (Harry and Emilie) could read – and they do really enjoy Zeros.Finally, a lot of people have said my art is 'simple' so I thought I'd have a go at creating something more cartoony and young-looking.

Who is your favourite Zeros character?
I didn't really want to pick favourites as I wanted all 12 of the main cast to be really likeable and interesting. Inevitably a few characters have emerged as favourites – Courtney, Will, Sara. Rex surprised me as I wasn't really a fan of him and then I started to develop his powers in a unique way and he became a lot more interesting to me.

Are you pleased with the first Zeros volume?
I really am, yes. It was a very interesting and new experience for me – creating a regular web-comic – and I think it turned out pretty well.Soon I will be collecting it into a complete volume and I'll be looking for a publisher!

Why did you choose to publish Zeros as a web-comic?
I had been doing comic conventions for around 15 years, selling my old series at them. I loved it and it was also a great way of actually selling comics – because I'd see a lot of the same people at the conventions and they'd usually buy my latest issue. A lot of my readers became friends. However, the conventions were a lot of work (a lot of preparation would go into them) and I felt like I needed a break from them, so I decided to try creating a web-comic instead.

What was it like publishing Zeros as a web-comic?
I was working on Zeros for a few months as I was promoting and publishing my final O Men books, so I had a bit of a head-start. But that head-start soon disappeared and I was putting chapters up online and I would have barely started the next one! I didn't want to just only release one chapter every couple of months so I decided to do what most other web-comic people do and release a page per week. I thought it worked okay, but then releasing the final 22-page chapter may have seemed like a bit of a long haul (almost six months for one chapter!).I'm always learning. For the next volume I will try and release one chapter every month. Time flies so quickly and each chapter is a lot of work.

The art in Zeros looks a bit different to your previous comics – can you talk a bit about that?
The art – and the way I drew it – really evolved. I started off drawing it like I normally did, on paper, and then I started using Manga Studio to ink and colour it – I had a great program where you could get your computer screen onto your ipad pro and control (and draw on) your computer from your ipad. But around halfway into drawing volume one, I was completely drawing on my Ipad Pro – from thumbnailing chapters to penciling and sketching them, all the way through to colouring and lettering. I just became more comfortable with it (it took a long while). It's amazing to be able to draw that way and so efficient (for instance, when I go on holiday I can just take my ipad pro and Apple Pencil and not have to take a whole bunch of paper and pens – which is what I did for about 25 years). I really wanted a crayon effect for volume one. A friend had bought me a book called 'Tokyo on Foot' which was full of pencil crayon drawings and it really inspired me to try and create that effect. The colouring style will change for the next volume, but it will still be very much hand-drawn and hand-coloured.

Tell us a Zeros secret!
I didn't actually have the main cast figured out until I started drawing the first chapter. They'd been bubbling away in my head for a few years but I hadn't made the final decisions. There were all sorts of combinations. The class was going to consist of around 16 children. Then I drew my first classroom scene and I thought, oh wait, I only want to draw 12 desks – so I immediately had to cut the main cast!

What's in store for Zeros Volume 2?
So by now you will hopefully have got an idea of where Volume 2 is heading. The art style will change. I don't want to say too much. The characters all have some very interesting things going on. I want each volume to be self-contained, but some things that happened in the first volume will have an effect on the second. I do want the next batch of stories to have impact. There will be a lot of romance and discovery. I want readers to laugh and cry. I want it to have an impact.

And after that?
I'm very secretive! There will be more volumes. I know where the characters are all headed. Volume Three will be epic…